Castellon Airport "will open as quickly as possible"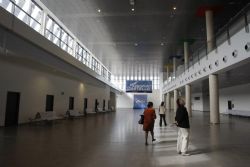 The President of the Generalitat Valenciana, Alberto Fabra, said yesterday that the Regional Government is working hard to ensure that Castellon Airport is open "as quickly as possible".
He maintained that the airport is a "basic and fundamental infrastructure for the development of tourism in Castellon" and that the Region must "seek a solution soon."
Asked about the possible sale of the Airport, following the expiry of a deadline which sought to resolve differences with the former developer of the facility - Airport Concessions, Fabra would only comment that the Government is "considering everything".
Fabra, who was speaking to the press during a public visit to Productos Florida, also sought to deflect questions about the Airport from the press by making claims that regional unemployment figures fell for the 3rd consecutive month, by an estimated 5'000 in December.
Sadly, it seems that no journalist had either the opportunity, common sense or balls to ask why Castellon Airport did not welcome it's first flight earlier this week
Read further Castellon Airport news by clicking the link >> HERE <<.