Regional Politician questions Corvera and Paramount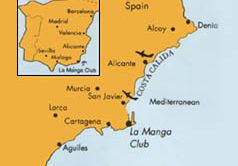 The Regional Spokesman for Murcia's IU-Verdes, José Antonio Pujante, has given an interview to Europa Press where he has outline the challenges he has made to the regional assembly of Murcia over the course of 2012.
In total Pujante made 50 "Requests for further Information", 28 Written briefings, and 5 Oral questions in Parliament.
These generally surrounded issues of major infrastrcuture projects such as the changes made to the AVE High Speed Railway Link, the Paramount Theme Park and Corvera International Airport.
Significantly, Pujante has asked President Valcarcel to name specific dates when Corvera Airport will become operational (and it's €200 mln debt to the region), and for further details regarding the progress of the Paramount Pictures theme park project.
Although the "latest news" and "press releases" feature on the website for the developer of the park, Proyectos Emblemáticos Murcianos SA (Premursa) has not been updated for almost 8 months, it must be assumed that the most recent statement given to the press is correct (?)
On the 12th of November last year, Minister of Culture and Tourism for the region of Murcia, Pedro Alberto Cruz, told Europa Press that "Work on the Paramount Theme Park will commence on the 15th of January, 2013" - which should mean that we should see positive signs in less than 2 weeks ?