Spain December jobless falls on holiday hiring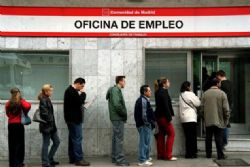 The number of people out of work in Spain fell by 1.2% in December, labour ministry data showed, marking the first monthly decline since July as the service sector stepped up hiring in the run-up to Christmas.
Thursday's data means 4.8 million people are unemployed in the euro zone's 4th-biggest economy.
The monthly figure records the number of Spaniards registered as out of work, and is considered less reliable than the country's official unemployment rate.
That rate hit a record 25% in Q3 to September, the highest since the Franco dictatorship ended in the 1970s.
The only comparable level in the euro zone is in Greece which, in recession for 6 years, recorded a monthly unemployment rate of 26% in September.
Spain's economy is also contracting under the weight of €60 billion worth of budget cuts, and expected to dip 1.5% this year - likely leaving even more people out of work.
PM Mariano Rajoy's government, under pressure to meet budget deficit targets, has also shaken up working regulations to make it easier to hire and fire people.