Spain promoted abroad as major conference destination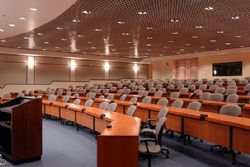 Turespaņa and the Spanish Association of Congress Centres (APCE) have signed an agreement aimed at improving Spain's position in the international business tourism market.
The collaboration agreement is geared to establishing a framework between the 2 institutions for promoting and developing Spain as an international conference and events destination.
According to figures provided by the association, more than 1 in 3 of the delegates attending congresses or conventions at APCE member venues come from abroad - meaning that the country's congress centres constitute an important instrument for marketing Spain internationally.
Turespaņa also considers the country's congress centres to have a significant role, both in overcoming the tourism industry's seasonality and increasing the diversity of visitors.
A statement from the President of APCE and Managing Director of the Congress Centre of Valencia read : "It is important to stress the relevance of congress centres in the staging of large events in Spain and, particularly, their international impact. Taking into account that these venues host approximately 60% of the delegates taking part in them, they also contribute to improving Spain's position in the international rankings. Spain has now seen the number of international meetings hosted increase by more than 100% over the last 10 years, according to statistics provided by the International Association of Congresses and Conventions (ICCA)."