Road users 30% safer in Spain than UK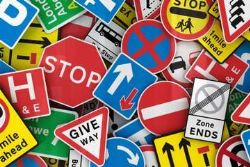 Road deaths in Spain have fallen to levels last seen in the 1960's, a time when there were only one million vehicles on the road and two million drivers, according to figures released by Interior Minister Jorge Fernández Díaz on Wednesday.
Last year "only" 1,304 people lost their lives on the road or in the 24 hours following accidents they suffered, a 12% reduction from the previous year. Deadly accidents have now fallen for 9 years in a row.
Also last year, 6,161 individuals sustained serious injuries as a result of a road accident, 783 fewer than in 2011. Fernández said there was also a 4.5% fall in road trips last year due to the crisis.
By comparison, a total of 1'901 traffic fatalities were sustained in the UK during 2011 (the last complete year of statistics).
Spain also has around 46 Million residents, and 30 Million road vehicles compared to the UK with 62 Million residents and almost 40 Million road vehicles. If the statistics are taken as accurate - and of course there are a number of variables that have not been accounted for - this means that as a rough approximation the population of the UK have have a risk of a fatal injury on the road that is 30% higher than in Spain.