Spain applies tougher tobacco laws on Gibraltar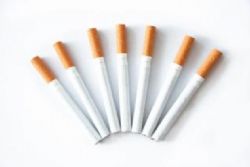 The Spanish Government has continued their crackdown on tax avoidance, with the Hacienda imposing tighter restrictions on the amount of Tobacco that can legally be brought from Gibraltar onto the mainland.
The law currently states that anybody living in Spain within a 15km radius of Gibraltar can only carry 1 carton / 10 Packets of cigarettes into the country each month. This is to ensure that those commuting across the border are not taking advantage of duty free prices to sell on the goods at a profit.
However, as from January 1st the amount that can legally be brought into the country has been reduced to just 4 packets per months - 80 cigarettes.
Whilst current EU law states that the Government of each member state can apply the law with their own discretion (down to a minimum of 40 cigarettes), many residents on the rock consider this to be nothing more than a reason for the Spanish authorities to pressurise and harass the citizens of Gibraltar in applying tighter 'stop and search' procedures for commuters.