Murcia Deputy "Hopeful" for Corvera and Paramount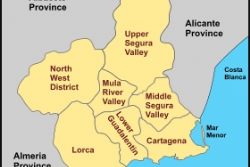 The Murcia Regional Deputy for the PP, Francisco Bernabé, spoke of his hopes for next year and reiterated that the people of Murcia had much to be optimistic about.
He specifically spoke of how the opening of Corvera International Airport and the start of construction at the Paramount Pictures Theme Park would become "two major icons of tourism for the Mediterranean Basin."
Bernabé went on to say how he was hopeful that the AVE high speed railway network would be extended to Murcia and along the Mediterranean Corridor by 2014, and would encourage growth of the regional economy.
All of these "are signals of hope", according to the Deputy.
His comments came just hours after the leader of the Region's IU-Verdes, José Antonio Pujante, gave an interview to Europa press where he spoke of the various challenges he had made to the Government over the Corvera and Paramount projects , which had gone unanaswered.