Indians urged to buy property in Spain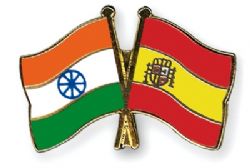 India's Chandigarh Tribune is urging well-off Indian's to take advantage of Spain's offer of residency for thos purchasing a property over the value of €160'000.
The Newspaper notes that the sum has been calculated as being the average cost price for a property in Spain, and is around 1/20th of the asking price for many properties in more affluent parts of Dehli.
Readers were also reminded that families making such a purchase would be entitled to travel throughout the EU, although not to work, once they held Spanish residency.
Although Portugal, Ireland and Hungary had also made similar offers, the Newspaper noted that the offer from Spain was by far the most generous.
Spain's secretary of State for Trade Jaime Garcia-Legez explained the new policy late last year, saying, "We have proposed to the other ministries that residents who acquire a home in Spain for more than €160,000 will automatically entail a residency permit.
"It's a balanced figure. Any lower and it might create a massive demand for residence permits with housing as the excuse to get them."
Earlier he explained, "In coming weeks we will start to reform the law regarding foreigners to reactivate demand abroad and contribute toward reducing housing stock."
The scheme is currently targeted at the Chinese and Russian markets where there is a history of demand for Spanish properties.
A legal expert in Asia commented, "Residency to Spain means access to Europe. It means free movement in Europe and free trade with other European countries. Spanish passport holders can visit up to 165 countries in the world without a visa, which makes the Spanish passport the 5th most advantageous in the world."
The only hint of criticism has so far come from Spain's second largest union, which commented: "It wants to attract foreigners who are obviously rich and able to buy and can supposedly remain in Spain without working with the aim of getting rid of a stock of houses that are largely in the hands of banks."