Bank lending to businesses in Spain continues to fall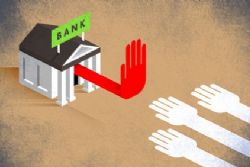 Lending to Spanish companies continued to fall in November, exacerbating efforts to pull the country out of recession, according to figures released Friday by the Bank of Spain.
The BoE said outside loans at the end of November stood at €1.19 trillion, the lowest level in 5 years, representing a decline of 4.6% compared with the same month a year earlier, and 4 percentage points more than in October.
Loans by Spanish lenders declined an annual 7.2%, while credit granted by foreign banks fell only 1.6%. One of the reasons behind the decline is weak demand as a result of the economic downturn, although banks also continued to encounter problems in securing funding at reasonable rates because of the increase in Spain's risk premium. The wholesale funding markets have been largely closed, with banks relying on deposits and borrowings from the ECB.
The banks are also facing growing loan defaults. According to the Bank of Spain, the non-performing loan ratio moved above 11% for the first time on record. The government has secured a loan from the EU to help recapitalize the banking system, which has been badly hit by its over-exposure to the real estate sector, which has been in the doldrums since around the start of 2008 after a massive bubble burst.