Military officials to face trial for diverting public funds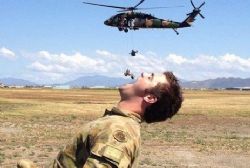 A court martial will try 6 military officials for allegedly diverting nearly €300,000 in Defense Ministry funds meant to buy cafeteria food for the San Hermenegildo student residence in Seville in the period 2005-2009. Two colonels, two majors, one captain and a sub-lieutenant, as well as two businessmen, face up to 6 years in prison.
The judge's report notes that while students complained repeatedly about going hungry, managers received gourmet food worth thousands of euros from the suppliers, who provided fake invoices in order to obtain ministry funds.