Airport has done "Irreparable Damage" to image of Castellon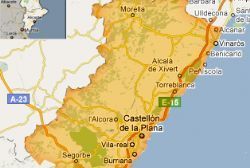 The Secretary-General for the PSPV-PSOE in the Province of Castellon, Francesc Colomer, has issued a statement calling for a full and open discussing to be held in the Regional Parliament of Valencia concerning the "serious situation" at Castellon Airport.
The statement went on to criticise the constant "drip-feeding of conflicting information and uncertainty from the Generalitat Valenciana and Aerocas, and that somebody should stand up and explain what is happening with the public investment of more than €150 Million.
Colomer added that Castellon Airport was "known throughout Europe as the airport without planes," and that the mis-management of the project had caused "irreparable damage" to the image of the province.
The statement also called for the dismissal of Carlos Fabra as President of Aerocas, the licence holder and company responsible for the operation of the Airport.
This coincides with a statement made yesterday by Marina Albiol, the Regional Deputy for the Esquerra Unida del País Valencià (EUPV), demanding answers concerning the future of the airport .