Boy Killed at Malaga Cabalgata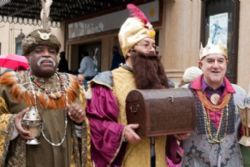 A 6-year-old boy was killed in an accident at a traditional festive parade on Saturday in Malaga on Spain's southern Costa del Sol, local authorities said.
The child died at the city's annual "cabalgata" parade to mark the arrival of the Three Kings said to have followed the Star of Bethlehem to bring presents of gold, frankincense and myrrh to the infant Christ.
These parades take place across Spain in early January, with the most spectacular in the capital Madrid. They feature floats, music and even elephants, while sweets are usually thrown to the crowds of children watching.
The child appeared to have been run over by a float after approaching it to gather sweets, local media said.
Malaga's town hall announced two days of mourning for the boy's death but, on its official Twitter feed, said the parade continued. The boy's name was not immediately released.
The Malaga parade featured 15 floats and 14,000 kilos of sweets. The town hall had laid on extra buses to help people get around the city.