Rajoy sidesteps PP corruption questions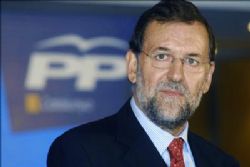 Mariano Rajoy is not willing to let his party's legal troubles ruin his Christmas holidays in Galicia, his native region. Asked about 2 prominent cases of alleged corruption within the Popular Party (PP) during a ceremony Friday, the prime minister deflected the blow with a cool: "I am here for something else today."
Bodyguards prevented journalists from getting too close to the Spanish leader on a day reserved for ceremonial pomp. Accompanied by his wife Elvira Fernández, Rajoy inaugurated a museum in his home town of Pontevedra before driving to Santiago de Compostela to award the Great Cross of Isabel the Catholic to his personal friend, Xerardo Fernández Albor, who was the first regional premier of Galicia between 1982 and 1987.
No mention was made of the fact that the mayor of Santiago, Ángel Currás of the PP, is facing charges for influence peddling in a far-reaching corruption case involving irregular public contracting. The mayor did not show up at the award ceremony on Friday. Rajoy also failed to discuss the case of José Luis Baltar, former PP head of Ourense province, who is accused of arbitrarily giving hundreds of public jobs to friends and relatives for 20 years.
When reporters attempted to get close to Rajoy as he entered Santiago's Pazo de Fonseca, where the award ceremony was held, they were pushed back by security.