PP call upon Andalucia to authorise Jewish weddings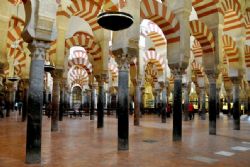 The Partido Popular has asked the Junta de Andalucia to authorize and encourage holding Jewish weddings in Cordoba's historic synagogue.
According to a report in Diario Cordoba, the request came last month in the PSOE led parliament of Andalucia, and meant to help the region "fulfill its touristic potential," Rosario Alarcon, a spokesperson for the party, is quoted as saying, adding that the move would encourage a greater influx of Jewish tourists into the city.
According to Alarcon, "arrangements are not in place" to facilitate Jewish weddings in the synagogue, meaning that this and other difficulties mean the city's tourism potential is not being fully exploited.
As part of a wider plan to develop the tourist sector in Cordoba, the party called for additional state funds to regenerate tourism in the center of the city.
Built in 1315, the synagogue stands in the historic Jewish quarter of the city, once home to a substantial Jewish population before the expulsion of Jews from Spain in 1492.
The Chief Sephardic Jewish Rabbi of Israel, Shlomo Moshe Amar, became the first Jewish leader to visit Spain in over 500 years when he met with regional officials in Granada last year. The visit paved the way for an announcement by the Government last month that the descendants of all Sephardic (Of Spanish origin) Jews will now be able to claim Spanish Citizenship .
Of an estimated 3 Million Sephardic Jews throughout the world, just 25'000 are thought to currently reside in Spain.