Spanish regions angry at "Indpendence" slur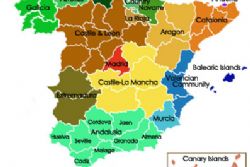 Two Spanish regions with strong independence movements reacted angrily on Monday to a speech by the country's defence minister that said the military was prepared and calm in the face of "absurd provocations".
Defence Minister Pedro Morenes made the comments at Spain's annual Epiphany military parade on Sunday, provoking reaction from politicians in Catalonia, where leaders are moving towards a referendum on independence from Spain, and the Basque Country.
"The military is prepared, they are keeping calm and in good spirits and not reacting to absurd provocations," said Morenes, without directly mentioning either region.
He also praised the armed forces as an example of "unity, honesty, generosity and bravery".
But Spain's economic crisis has brought regional tensions to the forefront of politics, especially in Catalonia, where many are convinced they would fare better as part of an independent state.
The President of Catalonia's Parliament, Nuria de Gispert, called Morenes' comments "a definite provocation" and a reference to "the process started in Catalonia".
"We shouldn't worry about the army," she said in an interview with Catalan television on Monday.
"There are few provocations, almost none at all, coming from Catalonia."
The role of the military can still be a delicate issue in Spain, where older generations remember the Franco dictatorship. A rightist military coup was attempted in 1981 following the return of democracy but failed.
In October 4 Catalan members of the European Parliament wrote a letter to EU Justice Commissioner Viviane Reding detailing their "deep concern over a series of threats of the use of military force against the Catalan population".
Catalan leader Artur Mas failed to get the absolute majority he hoped for in November elections but the region's two biggest political forces signed a pact last month to defy Madrid by holding a referendum on secession from Spain in 2014.
The spokesman for the Basque government told regional channel ETB on Monday that the minister's comments were "out of place".
"It seemed like an unnecessary reference to me. I don't know if he wanted to provoke with his words, but they were out of place," Josu Erkoreka said.
In the Basque Country, militant separatist group ETA killed more than 800 people over four decades of violence in its fight for independence. The group announced an end to armed struggle in 2011 but did not fully halt operations or turn over its weapons.
In regional elections in October, Basque pro-independence party Bildu finished second behind the nationalist PNV (Partido Nacionalista Vasco).
Batasuna, regarded by Spain as the political wing of ETA rebels, said last week it was closing down to clear the way for Basque separatists to operate within the political system.
Spain's King Juan Carlos said in an interview at the weekend to mark his 75th birthday that he was concerned about "breakaway policies", adding that recession-hit Spain needed "unity".