IAG Traffic up - Thanks to BA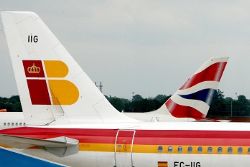 International Airlines Group (IAG) posted a slight rise in December traffic, as a robust performance from British Airways again made up for weakness at Spain's Iberia.
Traffic, measured in revenue passenger kilometres, rose by 0.3% versus December 2011, while passenger load factor - a measure of how well it fills its planes - was up 0.5 percentage points at 78.1%, it said on Monday.
IAG said its first and business-class travel - the most profitable part of its passenger business - rose 4.6%, while non-premium traffic fell 0.4%.
BA's December traffic was up 3.9% compared to an 8.4% fall at Iberia.
IAG has seen worsening economic conditions in Spain hit its performance in recent months, undermining strength in long-haul travel out of London.
Shares in IAG, which have risen 20% in the last 3 months, were 1.54% down at 192.05 pence by 1505 GMT, valuing the group at around £3.7 billion.