Nude Calendar Mums hit their target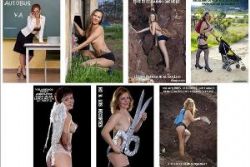 Spanish TV News program Noticias Telecinco has just reported that the sales of a risque calendar have helped a collective of School Mums in Valencia reach their fundraising goal.
Faced with an increase in cuts to their children's School, and the news that funding for a much needed Schoolbus, the mums of Evaristo Calatayud School in Montserrat, Valencia, decided to take matters into their own hands.
With many of the School's 80 pupils having to make their own way to school - from as far as 6km away - the mums followed the example of a popular British film. With just weeks before the start of the new year, the group decided to publish and sell their own racy calendar in a bid to raise the required €43'000 needed to finance the bus.
The region of Valencia is currently one of the most indebted regions in Spain, thanks to a number of contraversial and costly failed projects, including the unopened 'White Elephant" of Castellon Airport.
Whislt it is encouraging to see parents who are prepared to do everything necessary for their Childrens wellbeing and education, it is sickening that those in Government - who are elected and paid to do so - would rather look the other way.