Spain in bid to limit flights to Gibraltar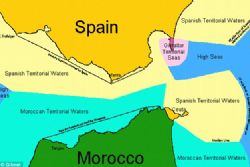 The UK's Daily Telegraph has reported how the Spanish foreign ministry is considering using their veto on the European airspace initiative to exclude Gibraltar from the Single European Sky plan and limit the number of flights to and from the rock.
This would effectivelt mean the reversal of improved relations between Gibraltar, the UK and Spain amrked by the 2006 Cordoba Tripartate Agreement, which gave Gibraltar approval to build it's own International airport.
However hostilities have once again risen to the surface as the 29'000 residents of Gibraltar are preparing to celebrate 300 years of British rule.
Over recent months Spain has revoked fishing rights around Gibraltar. In November the Spanish Government were succesful in having the ECJ recognise a Spanish narture site in Gibraltar waters, and just last week Spain clamped down on the amount of duty free tobacco leaglly allowed to be brought our of Gibraltar.
A Spokesman for the Foreign Office commentd "'Under the Cordoba Agreement of September 2006 Spain agreed to stop seeking the suspension of Gibraltar Airport from future EU aviation measures. The UK, working closely with HM Government of Gibraltar, will continue to do all it can to hold Spain to its international commitment".