Report slams Bank of Spain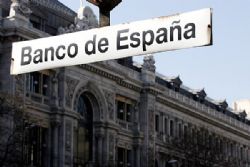 The Association of Inspectors at the Bank of Spain, which covers 80% of the professionals at the institution, has produced a damning report about the Bank's practices, including the accusation that when evidence of wrongdoing is discovered in Spanish banks, "the usual reaction is to look the other way."
The new governor of the Bank of Spain, Luis Linde, announced in July 2012 that a commission would be created to investigate the failings of the institution. Under its watch, a number of regional savings banks have been blighted by cases of corruption, while the taxpayer has had to stand by and watch as the government spends billions of euros of public money shoring up the banks, whose balance sheets were devastated after the collapse of the country's construction sector.
The report also complains of irregularities in the supervision of Spanish lenders, saying that "between the inspection report and the decisions taken by the Executive Board, there are too many levels of filters, which serve only to adjust the conclusions of the inspection, meaning that the inspectors' report does not figure among the documents at the disposal of the Executive Board."
That criticism is of great importance, given that it suggests that the conclusions of a report written by an inspector who has conducted an in-depth study of a bank are being altered.
"The working autonomy and the techniques of the Bank of Spain inspectors have been weakened," the report reads. "This is something that is negatively affecting the effective execution of supervisory tasks."