Spain sees falling monthly spend on food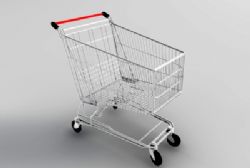 A report published today by Spain's Ministry of Agriculture, Food and the Environment has revealed that Spanish households are cutting back on the quantity of food purchased each week due to the on-going financial crisis.
Other cost-saving measures include going without luxuries such as wine, and changing to cheaper branded products or alternatives, such as using Sunflower oil instead of Olive oil for cooking.
The study notes that the overall value of items purchased by households in October fell by 1.8%, and by 2.3% in September, with prices increasing by an average of 0.7%.
According to the ministry's monthly survey of 12,000 homes, spending on food per person has now fallen for 3 consecutive months.
This cutback in food purchases has evidently had an impact on the sales of companies in the sector. According to Horacio González, the general manager of the Federation of Food and Drink Industries (FIAB), turnover in the sector is likely to mirror what happened last year when it fell 1.3%. "It has been strange, very uneven. Companies agreed that the summer was good but they noted a slowdown toward the end of the year," he said.
PricewaterhouseCoopers commented on the findings of the report : "You have to bear in mind that Spain is one of those countries where they throw away a lot of food, and economic problems are changing that."