The Compromis join the condemnation of Castellon Airport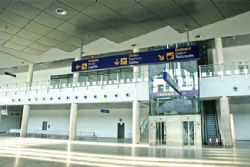 Following on from news last week that the leader of both the PSPV-PSOE and the Esquerra Unida del País Valencià (EUPV) political parties had issued separate statements, the Deputy of the Compromis has now joined the wave of discontent from opposition parties in the regional parliament.
Compromis spokesperson, Monica Oltra, has written an open letter to the Consell asking to know if the President of Aerocas, Carlos Fabra, is a direct obstacle in the process of opening Castellon Airport.
The letter goes on to ask why the promise made by the president of the Generalitat Valenciana, Alberto Fabra, to open the airport "at all costs" was not honoured.
Oltra also reminded Consell that Carlos Fabra was also still being tried on charges of influence peddling and tax evasion.
Both Marina Albiol for the EUPV, and Francesc Colomer for the PSPV-PSOE have called for a full explanation to be given the regional parliament concerning the future of Castellon airport .