Corvera Airport : Will San Javier Airport ever close ?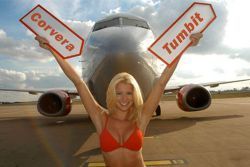 The Spanish Airports Authority - AENA - has put the security operation at 43 airports in their network up for tender, in a measure expected to raise €60 Million for 2013.
The tender process is due to end on February the 7th, and is split into two unequal parts. The first parcel is for 26 airports, each with over 500'000 passengers per year, and to the value of €56 Million. The include the airports of A Coruña, Alicante, Almeria, Asturias, Bilbao, Granada, Jaén, Fuerteventura, Girona-Costa Brava, Gran Canaria, Ibiza, Jerez de la Frontera, La Palma, Lanzarote, Malaga, Costa del Sol, Menorca, San Javier, Palma de Mallorca, Reus, Santander, Santiago, Seville, Tenerife North, Tenerife, Valencia, Vigo and Zaragoza.
The second parcel of17 airports with fewer than 500'000 passengers per year, valued at €4 Million, includes Albacete, Huesca, Logroño, Madrid-Cuatro Vientos, Pamplona, Sabadell, San Sebastián, Son Bonet, Vitoria, Badajoz, Córdoba, El Hierro, La Gomera, Leon, Melilla, Salamanca and Valladolid.
So WHY, when Corvera International Airport is supposedly going to open in just a few months time, and operations be transferred across from San Javier, are contracts for the security operation at the latter airport being tendered ?
WHY did AENA also include Murcia's San Javier Airport in their collection of Airports when tendering out the Duty Free operations at their network of airports ?
Furthermore, WHY did AENA Tweet that they had no plans to close San Javier Airport late last year ?
Although we have little cause not to believe anything AENA is telling the general public, it would seem that either they or Murcia's President Valcarcel is lying to us with regards to the transfer of operations between San Javier and Corvera.