OECD slams Spain's bribery record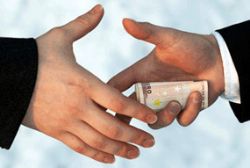 The Organization for Economic Cooperation and Developmen (OECD) Working Group on Bribery, established in 1999 to monitor alledged bribery and illicit payments to government officials, has criticised Spain as being one of the worst offenders.
The Working Group reported how Spain had failed to launch a single prosecution for bribery during the last 13 years, and had initiated only 7 investigations.
"Spain must vigorously pursue foreign bribery allegations and strengthen its legal framework for fighting bribery by addressing gaps in its Penal Code," the working group said.
In contrast to Spain's zero prosecutions, the U.S. has been most active in applying criminal sanctions for bribery, having imposed penalties on 58 individuals and 28 companies up to the end of 2011, while Hungary imposed penalties on 28 individuals and South Korea imposed penalties on 16 individuals.
The Working Group's report earlier today showed that bringing an end to bribery of overseas officials is going to be a long and difficult process, and the costs to businesses that play by the rules and the citizens of countries whose officials have been bribed will remain high.