Spain's funding needs to rise in 2013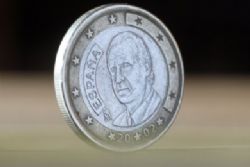 Spain plans to sell more debt this year than it did in 2012, reflecting funding needs that have soared as the economy has slumped and keeping nervous investors focused on an expected request for aid.
The treasury set a gross target for bond issuance on Tuesday of €121.3 billion, 7.6% more than last year's total debt sales including private placements and funding for regional governments that have been shut out of debt markets.
"The year 2013 will be challenging for the Spanish Treasury's funding," it said in a statement. "Its borrowing requirements will be high."
Spain is under intense pressure from markets concerned the country's finances are slipping out of control, and investors demanded increasingly high premiums to buy its bonds through much of 2012. That fuelled expectations Madrid would have to ask for international aid, which a drop in funding costs in the latter part of 2012 did little to dampen.
PM Mariano Rajoy is widely expected to attempt to attempt avoid any politically damaging aid request, but Treasury head Inigo Fernandez de Mesa said no decision had been reached.
"Our liquidity position is very comfortable right now, but a decision on applying for aid has not been made," Fernandez de Mesa told a news conference following the issuance announcement.
Higher bond issuance at the end of 2012 gave the government a debt cushion going into 2013, but it had undershot its issuance of T-bills, creating an neutral effect on overall funding, the treasury said.
BALLOONING DEBT NEEDS
Spain was paying a yield of 5.07% on 10-year debt on Tuesday in the secondary markets, a long way from the over 7.6% it was forced to pay in July last year.
But the country's funding requirements have ballooned in a crippling recession marked by chronically high unemployment, and Madrid has also been forced to step in to rescue many of the country's 17 regional governments, some of which have run out of money.
The Treasury said last year it issued €97 billion worth of bonds and made private debt sales of €16 billion, for a total of close to €113 billion, well over its original target of €86 billion.
The 2013 gross issuance target announced on Tuesday, which includes some €23 billion expected to be requested by the regions, was in line with what many analysts were expecting.
"But, I can't help but think that we'll get a repeat of last year when Spain said it missed its (public) deficit target, due to the regions, and had to raise their issuance," strategist at consultancy 4Cast Jo Tomkins said.
Spain's conservative government, which took power in December 2011, said at the start of 2012 the deficit for 2011 was 8.9% of GDP, almost 3 percentage points higher than the original target.
A senior Spanish government source has said the 2012 deficit is likely to be around 7% of GDP, slightly above the original target of 6.5%.
The government plans to cut that to 4.5% this year and 3% in 2014, though reports suggest the European Commission will give the country more time.
Spain is also fighting to win back foreign investors.
Spooked by the euro zone debt crisis, non-residents slashed their exposure to Spanish sovereign debt last year to 35.5% of the outstanding amount in November from 50.5% at the end of December 2012 - gap filled by the country's struggling banks.
The selloff has eased since the ECB said in September it would buy the bonds of country's requesting international aid in the secondary market, easing pressure on Spain's sovereign debt yields.
The Treasury also said it would scrap issues of 18-month Treasury bills from February, and start issuing 9-month paper.