Unemployment in Spain stands at 6.157 million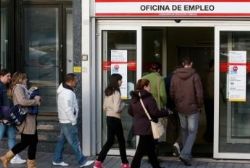 Eurostat - the EU's official statistics coordinator revealed yesterday how unemployment levels in Spain reached 26.6% in November, increasing from 26.2% the month previously, and up from 23.0% in November 2011.
This then equates to a total of 6.157 million unemployed in real terms.
October 2012 marked the first ever month that the jobless rate surpassed the 6 Million mark and now means that over 30% of all the 18.82 Million jobseekers in the EU are from Spain.
This also means that Spain has firmly cemented itself at the head of the leader board in terms of unemployment figures in the EU - way above the averages of 10.7% for the EU, and 11.8% for Eurozone member states. Both figures remained unchanged in November on October.
The EU commissioner for employment, Laszlo Andor, commented yesterday that the statistics released yesterday suggest that unemployment in Spain has either now peaked, or is very close to doing so.
Last week the PP announced that next month they would make a final decision on whether to extend the €400 per month subsidy for those without work and no longer eligible to claim unemployment benefits.