Madrid escalates bid for 2020 Olympics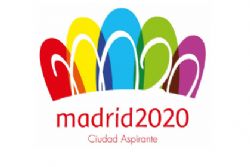 Madrid will be capable of staging a successful 2020 Olympics despite the parlous state of Spain's finances, officials behind the city's bid said on Tuesday.
"Today the biggest weakness we have is the economy but we can overcome it," Spanish Olympic Committee (COE) president Alejandro Blanco told a news conference, a day after Madrid's bid dossier was handed to the International Olympic Committee (IOC) in Lausanne.
Officials said hosting the Games would help to boost the economy, burnish Spain's image and unite citizens during tough times.
Last year's London Games, seen as a resounding success despite some dire predictions, were held up as an example to follow rather than the 2004 edition in Athens, which left a legacy of crumbling venues and crippling debts.
"It's rare that the rational and the emotional, the practical and the idealistic, can be united in one project," Blanco said as he presented the 370-page bid dossier at City Hall.
"The Games will be an injection of collective optimism through sport.
"There is no investment with a greater medium- and long-term benefit than an Olympic Games."
The Spanish economy entered its second recession in two years at the end of 2011 and is expected to continue to contract into late 2013 with little sign of recovery in battered consumer and business sentiment.
Unemployment was at 25% in Q3, more than double the EU average, while many working Spaniards are being forced to swallow painful cuts in wages and benefits and the government is slashing spending on hospitals and schools.
ALREADY BUILT
According to an initial estimate, a Madrid Olympics would cost €1.52 billion, plus another €150 million for services such as health and security, the bid team said.
That compares with the estimated €14.5 billion spent on the London Games and around €12 billion for Athens, far above early projections.
Madrid is competing with Istanbul and Tokyo for the 2020 Games and is bidding for a 3rd consecutive time after failing to land the 2012 and 2016 editions.
According to their dossier, 28 of the 35 planned venues are already built, while around 40% of tickets will cost less than €40.
"Athens is an extreme example of a lack of profitability," minister for education, culture and sport Jose Ignacio Wert told reporters.
"Like London, Madrid already has from the beginning huge strengths that will help it stage an Olympics," he added.
Another issue officials had to address on Tuesday was whether a Madrid Games would have the backing of the whole nation at a time when increasingly high-profile independence movements in some regions have raised questions about national unity.
Wert cited a recent poll which he said showed that 80% of Spaniards supported the Madrid bid and he called the Games an "important national project" all citizens needed to be a part of.
The bid dossiers are the cities' official proposals to stage the Games, responding to IOC questions on finances, venues, transport and accommodation among other issues.
The IOC will stage evaluation visits to the three cities before delivering a report to IOC members ahead of the final vote on Sept. 7 at a meeting in Buenos Aires.
"Madrid is one of Europe's great cities and the only one that has yet to be given the honour of staging the Olympics and Paralympics," mayor Ana Botella said. "It's about time."
Would Spain hosting the 2020 Olympics really be a good idea at this point in time ?