Investment Group Offers €200 Mln for Castellon Airport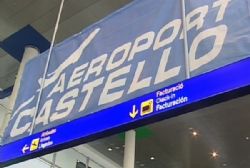 Carlos Fabra, the President Aerocas - the concession holder for Castellon Airport - has announced the "imminent" sale of the Airport to Libyan owned Investment company, for the sum of €200 million.
Fabra gave announcement together with the Minister of Economy, Maximum Buch, to the Castellon Chamber of Commerce, which he is also the President of.
The offer, which was received on December 31st, is enough to ensure that the Airport can become operational by the 30th of June, and will result in the creation of around 1'400 jobs, according to Fabra.
The airport, which "officially opened" in March 2011, had swallowed up €138 Million by the end of December 2011, according the Government Audit Office.
The Generalitat Valenciana, who own 98% of the shares in Aerocas, with the Province of Castellon owning the remaining 2%, have oddly enough offered their "full support" with the transition.
Read further Castellon Airport news by clicking the link >> HERE <<.