Castellon Airport may be operational days before Benicassim Festival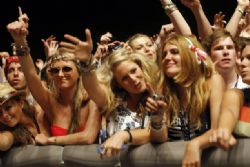 The Arctic Monkeys have been announced as one of the headliners for this year's Benicassim Music Festival in Castellon, Valencia. The band, who are currently recording their fifth studio album, previously topped the bill at the festival in 2011.
The event takes place in Spain between July 18 and 21 and Alex Turner and his team will join the likes of The Killers, Queens of the Stone Age, Jake Bugg, Azealia Banks, Palma Violets, Echo Lake, Splashh and Swim Deep.
There were concerns that the event would not go ahead after the promotion company - The Mean Fiddler - collapsed after the owner's personal loan of £750,000 to the company failed to keep it solvent.
Following 2012's loss-making event the company was worth just £310,000, however, the previous owner has now bought the company back from the administrators to ensure that the event will go ahead as planned.
Furthermore, just yesterday the company behind Castellon Airport - located just 17 Miles from the venue - announced that the sale of the facility to a Libyan Investment company could mean that the airport is operational by the end of June .
With as many as 60'000 people attending the Festival in previous years - many from overseas - the new owners of the airport would be well advised to ensure that they do everything possible to take advantage of this captive audience.