PSOE say no to Catalan Independence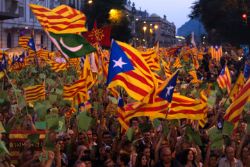 The leader of the PSOE opposition party, Alfredo Pérez Rubalcaba, says he can not support Catalonia's bid for independence from the rest of Spain.
The Catalan nationalist CiU group and its partner, the Catalan Republican Left (ERC), have agreed to hold a referendum on the issue in 2014.
Speaking at a closed session of the PSOE's executive committee after listening to arguments from the Catalan branch of the Socialist Party (PSC), Rubalcaba said the group should oppose all moves toward holding the referendum.
The former interior minister the previous PSOE administration said the Socialists' priority above the independence issue should be in opposing the economic growth and employment models pursued by the ruling PP government. According to those present at the meeting, the Socialist leader received support for his stance.
Rubalcaba said the focus should also be on defining a new territorial model, which is expected to culminate in a blueprint for a transition toward a federal system of government.
The party will invite proposals in this respect from its members and supporters, which will be incorporated into a series of conventions the party is due to hold on Europe, economic growth, the country's productive model, tax issues and institutional reform. A monthly meeting on these issues will be held each between February and June.