Spain Industrial Output Falls for 15th consecutive month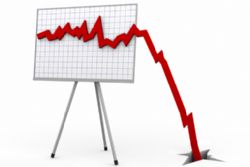 Industrial output in Spain dropped for a 15th consecutive month in November and almost twice as much as economists predicted as the recession in the EU's 4th largest economy deepens.
Output at factories, refineries and mines adjusted for the number of working days fell 7.2% from a year earlier, after declining a revised 3.1% in October, the National Institute of Statistics (INE)) reported in an e-mailed statement today.
Economists forecast a drop of 4%, according to the average of 5 estimates in a Bloomberg News survey.
The Spanish economy is set to shrink for a 2nd year in 2013, with the Organization for Economic Cooperation and Development predicting a contraction of 1.4% that may propel unemployment to 27%. The European Commission is due to reassess Spain's efforts to tackle the euro region's second-largest deficit next month.
In unadjusted terms, industrial production fell 7.3% in November from a year earlier after a revised 0.9% increase in October.