Spanish banks likely to start repaying ECB loans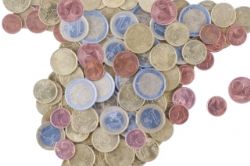 Spanish banks are likely to start repaying this month some of the around €260 billion euros loans they took from the ECB, as Spain's access to funds improves due to an easing of the euro zone crisis.
Market sentiment towards the euro zone's struggling economies has been buoyed since the ECB pledged in September to buy the debt of any country which requested aid.
Spain's 5th-biggest lender Sabadell, which took around €24 billion in the auctions, intends to pay back between 10 - 20% of the total sum in January, a source at the bank said on Friday.
"We will begin paying back a symbolic sum of between to €2.4 to €4.8 billion in January to show that we have other sources of funding rather than just the ECB," said a source at the bank on Friday.
The ECB pumped €1 trillion into European banks via 2 three-year Long Term Refinancing Operations (LTRO) in December 2011 and February 2012 to avert a bank liquidity crisis at the height of the euro zone crisis.
Banks can restart repaying the money from January 30.
Spain's 2 largest banks Santander and BBVA were among the biggest takers of the cheap cash, taking around €35 billion and around €22 billion respectively.
Although both banks declined to comment on whether they will pay back cash this month, analysts expect them to pay back some of the loans as a sign they can get liquidity from elsewhere.
RUSH TO ISSUE BONDS
Barclays analysts estimate Spain's banks will repay about €30 billion in Q1, or just over a tenth of what they took in the two LTRO offers. The analysts predict Europe's banks will repay some €200 billion this quarter.
Caixabank, which took €18.5 billions in the 2 auctions, still has not decided when to pay back the loans, a bank spokesman said.
A raft of Spanish corporates and banks, including BBVA and Caixabank, have issued bonds since the beginning of the year in a rush to tap improved sentiment towards the Spanish sovereign.
State-rescued lender Bankia has not disclosed how much it took in the auctions, but analysts estimate the bank tapped more than €30 billion. The bank has not yet decided whether it will repay some of the cash, a source close to the bank said.
Bankia received €18 billion of EU money in December, accounting for nearly half the cost of a European bailout of Spain's ailing lenders after capital levels were brought dangerously low by over-exposure to a collapsed property market.
Mid-sized banks Popular and Bankinter tapped €15.3 billion and €9.5 billion in the auctions, respectively. Neither would say if they would start to repay the loans in January.
The 3-year funds were offered to European banks at an interest rate averaging the rate in the ECB's main one-week refinancing operations over the next three years. That rate stood then at 1% and has since fallen to 0.75%.