Earthquake of 3.9 hits Jaen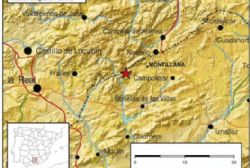 An Earthquake measuring 3.9 on the Richter scale struck the province of Jaen, Andalucia late on Friday night.
Spain's National Geological Institute (IGN) reported that the Earthquake took place at 23.27 CET and at a depth of 21km. The event also measures IV on the Moment Magnitude Scale (MMS) which, unlike the Richter scale, records the effects of the earthquake on the surface.
The Epicentre was recorded in the mountains between the villages of Frailes and Noalejo.
The province has seen a number of seismic activities over the last few weeks - now surpassing 300 in number - although only a small percentage have reached 2.5 on the Richter scale, or having been strong enough to have been felt on the surface.
The majority of these activities have to date been centered around the villages of Torreperogil and Sabiote, almost 90 miles to the North-East of Friday's Earthquake.
Read earlier news stories on the Jaen earthquake swarm by clicking the link >> HERE <<.