Spain bond yield fall as demand rises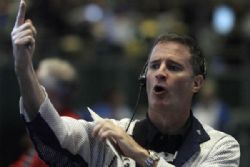 Spanish and Italian bond yields reversed an earlier rise on Tuesday with traders citing strong demand at the two countries' debt auctions.
"T-bill auctions were OK. There is good demand for this syndicated Italian deal so I think that's why (yields are falling)," a trader said.
Spain successfully sold €5.75 billion of treasury bills, beating their initial target of €4.5-€5.5 billion while Italy was selling 15-year bonds via syndication.
Spanish 10-year yields were last flat on the day at 5.04%, having risen as high as 5.14% earlier while equivalent Italian yields were 2 basis points lower at 4.17%.