Inflation in Spain hits 3.0% for December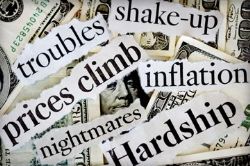 Earlier this morning the National Institute of Statistics in Madrid reported how the end of 2012 brought a whopping 3.0% rate of inflation.
The country, already battling with a near-27% unemployment rate, a contracting economy in a 2nd recession in 3 years, and a recently increased rate of IVA, is now being faced with having to pay a higher amount for everyday items such as food and utility bills.
Prices for December remained were seen to have increased by 3.0% on December 2011, but were unchanged on November 2012.
The biggest contributor to inflation this year was the increase in the rate of IVA (VAT) , which was announced in July or last year, and took effect in September. Although the top rate of IVA was 'only' increased from 18% to 21% a number of products and services saw their banding moved from the Mid-rate to the higher rate, meaning that services such as Funerals or Hairdressing (amongst others) saw the rate of tax increase from 8% to 21%.
At the end of November the PP caused outrage amongst retired Spaniards when they announced that Pension benefit payments would not increase in line with inflation . Whilst customary to increase these benefits in line with the rate of inflation, as it stands at the end of each November, the PM announced that 2012 will only see an increase of 1% - rising to 2% for those on incomes of less than €1'000 per month.