Spain risks downgrades and bailout in 2013 : Fitch's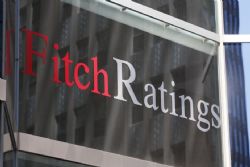 Fitch's credit ratings agency today said how Spain will continue to risk facing downgrade even if it avoids having to ask for a bailout.
The Agency's head of sovereign ratings, David Riley, went on to say how Spain's risk at being downgraded from a current "BBB" rating depended on its ability to deliver on deficit reduction, the cost of bank recapitalisation and, most significantly, economic performance.
"It's the economy. If this time next year the expectation is for another 1.5 - 2.0% contraction in the economy and unemployment getting towards 30%, it's very bad times," Riley said.
The ECB has committed to make unlimited purchases of government bonds, known as Outright Monetary Transactions (OMT), to support any euro zone sovereign that enters into an international bailout programme.
The promise of a backstop has helped slash the cost of borrowing for indebted euro zone sovereigns such as Spain since it was announced by the ECB in September.
A poll of 162 investors present at the conference showed that 57% expected Spain to request a bailout in 2013.
Fitch's currently rank Azerbaijan, Kazakhstan, Croatia and Bulgaria with higher credit ratings than Spain.