Spain expecting strong demand at bonds auction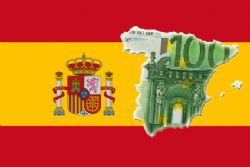 Spain is expected to see strong demand and sharply lower yields at a triple bond sale on Thursday, boosted by improved investor sentiment toward struggling southern European economies.
The Treasury plans to tap the market for up to €4.5 billion in bonds due to mature in 2015, 2018 and 2041.
If Spain sells the full amount, it will have completed almost 9% of its 2013 medium- and long-term gross debt plan in its first two bond auctions. Italy also took advantage of high demand and consequentially lower borrowing costs on Wednesday.
"From previous auctions, including that in Italy, it seems there's appetite for peripheral (euro zone) debt, and I've not seen any event to alter these dynamics," said Ioannis Sokos, a debt strategist at BNP Paribas.
"I don't think this will last for long. But, in the near term, we're in a risk-on mode and I see demand is there to cover the auctions."
Spain's refinancing costs have dropped by more than 2 percentage points on its 10-year benchmark since the height of the euro zone debt crisis in July last year and after the ECB pledged to do everything necessary to protect the euro.
It was yielding just over 5% on Wednesday.
That pledge - which included a promise to buy bonds if a country needed it after applying for a bailout - meant investors were given something of a safety net.
Spanish PM Mariano Rajoy has been reluctant to take the political risk attached to applying for the aid which could trigger an ECB bond-buying plan, but investors are unwilling to bet against the shadow of potential central bank participation.
LOWER COSTS
The government unloaded more-than-targeted amounts at both its first bond sale January 10 and at a T-bill sale January 15 this year. Large companies, virtually priced out of the debt market last year, have also rushed to place paper.
Spain aims to raise €121.3 billion in medium- and long-term debt in 2013, up 7.6% from 2012.
According to secondary market prices on Wednesday, a good indication of what investors will pay at the primary auction, the yield on the bond due October 31, 2015, was expected to mark the largest drop of the 3 bonds from previous auctions.
The 2-year issue last sold at an average yield of 3.358% at auction December 13 compared with a yield of around 2.75% in the secondary market on Wednesday. A bond of that maturity hasn't sold at that level in a primary auction since March last year.
The bond due January 31, 2018, last sold at a yield of 3.988%, compared with 3.8% in the secondary market on Wednesday, a level not recorded in 11 months.
The bond due July, 30, 2041, last auctioned in May 2011, was trading for 5.7% on Wednesday.
The near-30 year issue, and a bond due July 30, 2040 on December 13. which went to market in December, are the longest dated paper to be auctioned in a year and a half.
While the average maturity of Spanish debt fell to 6.04 years in November from 6.61 a year earlier, the Treasury has said it aims to keep the maturity level at current levels through this year's issuance programme.