Spain Expat numbers continue to decline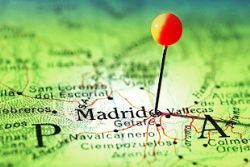 Data released yesterday by Spain' National Institute of Statistics (INE) revealed that close to 300'000 people left the country in the first 6 months of 2012, of which 229'000 were Foreign Citizens.
The net loss of expats across all nationalities was placed at 15'229, bringing the total number of foreign residents of Spain to 5'736'258.
The report placed the total population of Spain as of 1st January 2013 at 47.2 Million, showing a growth of just 74'828 on the previous year.
Statistics show how this is the first time in 15 years that the number of foreign residents in Spain has fallen, when data for 1998 saw 637'850 foreigners leave the country.
The report placed the Romanians, Moroccans and British as the highest number of foreign citizens permanently resident in Spain, with 829,936; 651,207 and 374,842 legal residents respectively.
Other significant nationalities included Ecuadorians (293,602), Colombians (246,451), Bolivians (178,463) and Germans (179,690).
An increase in austerity cuts and a worsening recesssion, together with and escalating rate of unemployment has seen Spaniards and those of other nationalities alike seek opportunities in other countries.