P&G to cut jobs in Spain and Portugal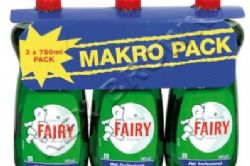 Procter & Gamble today announced their plans to cut around 150 jobs in Spain and Portugal following the decision to integrate hygiene company Arbora & Ausonia (A&A) into its existing operations.
P&G, which makes a host of well-known household products from prescription drugs to Fairy washing-up liquid, has already said it would lay off thousands of workers worldwide in a cost-cutting plan designed to reinvigorate its performance.
P&G acquired 100% of A&A, which makes nappies, Tampax tampons and adult incontinence products, last year after food company Agrolimen sold its 50% stake in the firm.
A succession of companies in Spain are slashing jobs in response to a painful recession. Airline Iberia plans to cut up to 4,500 posts, while 12,000 banking jobs are expected to go this year.
Economic growth is not expected until 2014 in Spain, where one in four of the workforce is jobless.
P&G said the plan focused on 300 jobs at A&A's main offices in Barcelona and Lisbon and in its sales networks. The company - which employs a total of around 2,500 in Spain - said it expected to offer new jobs for around 150 workers, while the rest would be dismissed.
A&A's plants in the Spanish towns of Montornes, Mequinenza and Jijona would carry on operating without significant changes to their structure, P&G said in a statement.
A&A has sales of more than €500 million in Spain and €100 million in Portugal.
P&G reports results on January 25, when it will likely update on its restructuring efforts.