Spain world's best value holiday destination : Report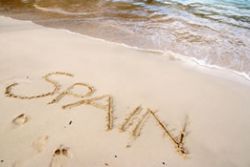 The Annual survey by the Post Office has revealed the trends of Holidaymakers during 2012, and predicted the most likely destinations for 2013.
The 7th annual report looked at 42 different locations, and found that people are increasingly looking beyond the EU to get better value for their money, and taking into account currency fluctuations when choosing their destinations.
Mexico once again repeated 2012's 2nd position, with the sale of Mexican pesos rising by around 30% during last year, and by 200% over the last 5 years.
Aside from the cost of the Holiday itself, the survey also considered the cost of 8 different 'Holiday items' across a number of resorts in each of the 42 destinations to find an average price of each item per country. It also considered and compared dining out in each of the locations.
The Holiday items included : a Beer; a Coffee; Cigarettes and Sun tan lotion, with the Costa del Sol topping the list of all destinations as the cheapest at £36.14, whilst at the other end of the scale Australia was more than 4 times more expensive at £145.28.
Aside from Spain being shown to be the destination offering the best value for money for dining out and the 8 Holiday items, it also revealed how Spain topped the list once again as being the cheapest destination for travel and accommodation.
Just yesterday Spain's Ministry of Tourism reported how tourism in Spain grew by 1.2 Million visitors