Filming of Benidorm to start March 25th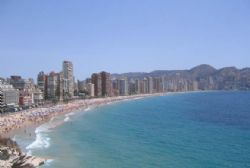 Following the news last year that the Benidorm TV series would begin a 6th series, production company Tiger Aspect have confirmed that filming will commence on the 25th of March, lasting until the end of June.
The usual characters will return, with the exception of bitchy drama queen Gavin, played by actor Hugh Sachs. He originally appeared as part of a gay couple with partner Troy, but in the last series was seen holidaying without him, instead bringing his "camp"work colleague Kenneth.
The town's Sol Pelicanos hotel - known to fans of the show as the Solana Hotel - remains the main setting for the series.
Auditions for extras are expected to commence at the start of March, and will likely be held at the Melia Hotel.
News this week has already reported that Spain saw an increase of 1.2 Million visitors during 2012, which together with further news that Spain has been surveyed as the "best value holiday destination" , suggests that Benidorm - amongst other Spanish resorts - might look forward to a succesful 2013 for visitor numbers.
Thanks to Benidormallyearround .