Spain to move ahead with sale of Catalunya Banc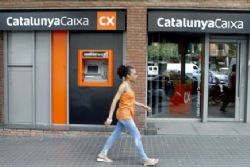 Spain will press ahead shortly with the sale of bailed-out lender Catalunya Banc, 2 sources with knowledge of the negotiations said, alleviating concerns the auction would be delayed for months because of a lack of interested buyers.
Interested parties can start submitting non-binding offers for the group next week, one of the sources said, adding that once these are received the process could be reviewed again.
Spain's bank restructuring fund FROB, which owns Catalunya Banc and 3 other state-rescued banks, made the decision to kickstart the sale at a meeting on Friday, both the sources said.
The decision came two days after economy minister Luis de Guindos suggested during a news conference there could be a delay because the FROB was looking at alternatives for disposing of the Catalan lender.
"The sale of Catalunya Banc is now going ahead after a meeting by the FROB and the prospectus should be distributed among the potential bidders," the second of the 2 sources said.
The Economy Ministry, Bank of Spain and FROB all declined to comment.
Spanish banks have been crippled by a real estate bubble that burst 5 years ago, and which ultimately forced the government to seek up to €100 billion in aid for its worst-hit lenders to rebuild their capital.
The government is now keen to get some bailed-out banks off its hands quickly. Last year it sold Banco de Valencia for one euro to Caixabank, enticing the healthier lender with a government-funded protection scheme against further losses.
Catalunya Banc, one of four nationalised lenders to get a share of €37 billion in bailout funds from the EU late last year, had been next in line for disposal, although Spain has given itself 5 years to sell the bank. Economy Minister De Guindos said in December that it would be sold in the first months of 2013.
The FROB has spent the last week sounding out buyers to see whether there was real interest in the bank, or whether suitors were just using the purchase to claim a cheap capital injection from the FROB, said a 3rd source with knowledge of the matter. Feedback from banks has been positive, that source said. Santander, BBVA, Kutxabank and Sabadell have been identified as possible bidders by observers of the process.
But a potential sticking point now is that the government does not want to offer loss protection schemes to parties interested in Catalunya Banc or fellow rescued lender NovaGalicia Banco, sources at the Bank of Spain have said.
"Now that the bank has been recapitalised it does have a value, and there's no interest in just selling this for a euro," the 3rd source said, adding that the bank had been purged of €6.7 billion of toxic assets, transferred to a so-called 'bad bank' set up by Spain.
Banks are warning, however, that other types of credit portfolios, such as ones containing consumer loans, could still pose future problems for potential buyers once the real estate problem is fixed.
Spain's nationalised lenders, including bigger Bankia , must also shrink their balance sheets by more than half, slash jobs and enforce losses on bondholders as a condition of receiving European aid.