Aerocas to operate Castellon Airport if not sold by end Feb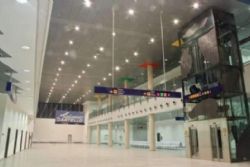 The President of the Generalitat Valenciana, Alberto Fabra, yesterday announced that if the sale of Castellon Airport did not go ahead as planned by the end of February, the facility would be managed and operated under the direct management of Aerocas.
The Premier was on an official visit to the province when he was asked about the status of the offer to buy the airport for 200 Million euros by a Libyan Investment Group.
Fabra confirmed that the legalities were being reviewed by Aeorocas and representatives of the regional government, and that the intention was to open the airport as soon as possible and at the lowest cost.
The process of obtaining licences and certifications has been currently suspended at this time until the details of the future ownership of the airport can be ascertained.
Read further Castellon Airport news by clicking the link >> HERE <<.