Rajoy defends PP from corruption inquiry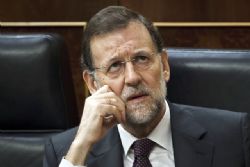 PM Mariano Rajoy vowed action against wrongdoers in his ruling Partido Popular after revelations of a former treasurer's Swiss bank account threatened to stir a deeper party crisis.
An ongoing judicial investigation of former PP treasurer Luis Barcenas last week showed he had a Swiss bank account which at one point held as much as €22 million, according to a court document and statements by court officials.
Barcenas stepped down as party treasurer in 2009 when judges began to investigate his possible involvement in alleged illegal payments and kickbacks to party officials from builders and other businesses that won government contracts.
PP leaders have denied any knowledge of illegal schemes but Rajoy said he would act if wrongful activities were found.
"I will not waiver against inappropriate conduct," Rajoy said at a party meeting in southern Almeria on Saturday. He defended the work and honour of the "immense majority" of his party.
Political and corporate corruption is a sensitive subject in Spain at a time when the government has slashed education and health spending to rein in the budget deficit in the country where more than 1 in 4 of the workforce is unemployed.
Spain is going through a harsh recession and financial crisis after a prolonged housing and construction bubble burst in 2008, leaving banks with hundreds of billions of euros in bad loans to builders.
Since then, courts have looked into many accusations of ties between politicians and builders that won development deals.