Corvera & Paramount : Another anniversary, another broken promise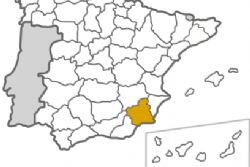 Today - the 21st of January 2013 - marks the 12 month anniversary of Antonio Sevilla's interview with the Spanish Press, where he confirmed that both the regional government and the central government "Were aware of the importance of Paramount and Corvera to Murcia" .
The Regional Minister for Public Works also went on tell "La Opinion de Murcia" of the importance that the arrival of the AVE high speed railway network would hold for the region, specifically with regards to bringing tourists to the area.
Sevilla ended the interview by asserting that Corvera Airport would be "Operational by late June / early July of 2012".
As of today the exact date of opening for Corvera Airport has yet to be announced, and then there is still doubt as to the scale of project at Paramount - let alone the date when construction at the theme park will commence.
This weekend also marked the one-year anniversary of the appointment of Jose Manuel Vargas as the new President of AENA, who was apparently tasked with presiding over the transfer of operations between San Javier and Corvera airports as a priority.