Rajoy sanctions audit of PP accounts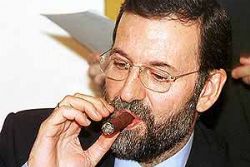 Mariano Rajoy announced yesterday that he had sanctioned an independant audit of the accounts of his ruling Partido Popular (PP) accounts, which will be run alongside a similar internal audit.
The PM made the announcement to his Party's National Executive Committee, which met Monday in Madrid following the recent scandal caused by news of the Swiss bank accounts held by the party's former treasurer, Luis Barcenas, and allegations of illicit payments made to party members.
Before the announcement, Party Secretary-General Maria Dolores de Cospedal reiterated her denials of such payments being made.
Last week El mundo reported how Swiss authorities told a Spanish judge that Barcenas had deposited some €22 million in Swiss bank accounts.
This prompted the leader of the PSOE opposition to demand an immediate explanation from the Prime Minister, also calling for the dismissal of Finance Minister Cristobal Montoro if the audit finds that last year's Tax amnesty allowed Barcenas to get away with the declare just €10 million of the €22 million he had in his Swiss bank account.
Barcenas resigned as the PP's treasurer in April 2010.
Yesterday El Pais reported that 200 Elected Politicians in Spain are currently undergoing various investigations for fraud and bribery.