Catalan deficit for 2012 reaches 2.3% of GDP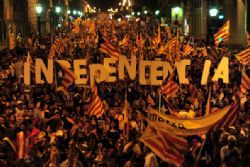 Earlier today Reuters reported how the region of Catalonia in northeastern Spain posted a public deficit of 2.3% of Gross Domestic Product (GDP) for 2012.
The Newspaper cited an unnamed Catalan official, who said that the figure surpassed the 1.5% target set by the central government for Spain's 17 autonomous communities.
Earlier today the European Commission released a report which concluded that the central government of Spain was unlikely to achieve it's target of reducing the budget deficit from 9.4% of GDP at the end of 2011, to 6.3% of GDP by the end of last year.
According to the Catalan Ministry of Finance, between the years 1995 - 2010 the region paid €24.77 billion more to the Spanish national Social Security system than they received back from it.
The Ministry also believes that Catalonia "would have" had a Social Security surplus of €3,384 per person, equivalent to 12.7% of the Catalan GDP, and that a hypothetical Spain without Catalonia would have had a deficit of €2,228 per person, equivalent to 10.1% of its GDP.