Spain treasury bonds snapped up by foreign investors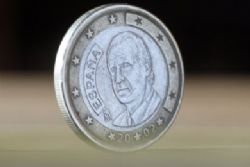 The sale of Spanish Treasury Bonds earlier today saw an increase in demand push the average yields to an almost 12-month low.
The sale of a combined total of €2.8 Billion of 3 month and 6 month bills exceeded central government targets and saw yields fall to around half the interest rates offered at December's auction late last year.
A Spokesman for the Ministry of the Economy also reported how more than 60% of the treasury bonds were snapped up by non-Spanish investors, with the appetite for Spanish debt suggesting an increasing confidence in the marketplace.
The Ministry also said how they expected a high demand for the 10 year treasury bond - with investors expressing an interest in as much as €23 Billion of debt - however the source could only see the government committing to the sale of €7 Billion at this month's auction.