Spain to allow criminals to head Banks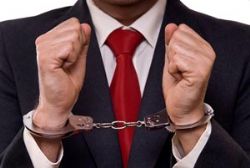 Yesterday the Government began the preparation for a royal decree which could see the requirements of integrity, experience and good governance being removed for those heading up the country's Banks.
According to the draft legislation, the Bank of Spain would be able to use it's own discretion with regards to the chequered past of all candidates.
For the first time ever, having been convicted for criminal offences will not be enough to prevent an executive from taking a senior role in a bank.
The text of the new decree states that "anyone who has been able to demonstrate that their personal, commercial and professional conduct does not throw into doubt their capacity to diligently and prudently manage a bank" will be eligible.
If a candidate happened to be the subject of an on-going criminal trial, the Bank of Spain will consider "whether the sentence or sanction is final; the severity of the sentence or sanction handed down; and the classification of the facts that led to the sentence."
The Decree also considers whether the offenses are related to money laundering, tax evasion, Social Security fraud or violations of the regulatory framework covering banking.
Another issue that will be taken into account is "the time that has passed since the events took place," as well as any "extenuating circumstances," and "subsequent behaviour."
Also to be considered is whether there are "repeated sentences or sanctions due to offenses or infractions."
Sources from the Economy Ministry have said that these new rules are in accordance with the guidelines set down by the European Banking Authority (EBA).
Legal sources have suggested that this legal reform could work to the advantage of Alfredo Sáenz, the chief executive of Spain's Santander bank, should the appeal underway against his pardon prosper. Sáenz was sentenced to 3 months jail time for false accusation, but was subsequently pardoned by the courts.