Castellon Airport Operational at last !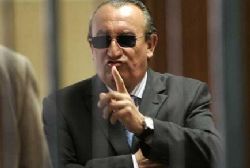 ...Although granted, not quite in the way we all hoped.
A Deputy for the Generalitat Valenciana was more than a little bemused to find that airport being put to good use on a recent trip to view the facility - ostensibly to complain about the fact that it was still unused almost 2 years after being "officially opened".
María José Salvador led a team of delegates to the airport only to find a Racing car doing laps of the airfield. Upon asking the security team at the airport for an explanation he was told that the Formula 3 driver had permission to use the track.
It seems that one of the delegates had the good sense to call Aerocas, who confirmed that this was indeed the case.
The car in question was part of the DTM team, whose champion driver Roberto Merhi is a local resident. Although it was not confirmed if it was Mr Mehri himself who was driving at the time, it is perhaps no coincidence that he is a personal friend of Carlos Fabra, the President of Aerocas.
Let's hope that those who have previously complained that Fabra treats the facility as nothing more than his own personal property, and has been complicit in a number of allegations of fraud, corruption and 'influence peddling' are taking note.
Read further Castellon Airport news by clicking the link >> HERE <<.