Volkswagen increases investment in Spain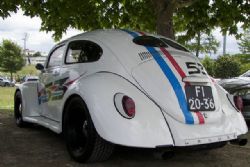 German carmaker Volkswagen said on Wednesday it will invest €785 million in a plant in northern Spain over the next 5 years, the 3rd carmaker in recent months to boost investment in the recession-hit country.
Spain's government has applauded the new investments, saying they are the result of a labour market reform that makes the country more competitive for businesses and also makes it cheaper for companies to hire and fire employees.
Renault said in November it was hiring 1,300 new people for its Spanish plants. A month earlier Ford said it was closing its plant in Belgium and moving production to Spain.
Nissan, however, said last week that it was cancelling plans to expand production of a new model in Spain after it failed to reach an agreement with union workers over new contract terms. Nissan said Spain was missing out on 4,000 new jobs and a €130-million-euro investment.
"A large part of the €785 million investment will go to prepare installations for manufacturing the next generations of Polo and its substitute in the future," Volkswagen said in a statement.
The Volkswagen plant outside Pamplona in the region of Navarra has a production capacity of 1,400 cars a day and employs 4,600 people.